As Apple continues to refine macOS 13 Ventura before its official release, I'm getting all of St. Clair Software's apps up to speed on it. While both App Tamer and HistoryHound worked on the latest public beta versions of Ventura, there were a number of details that needed to be addressed.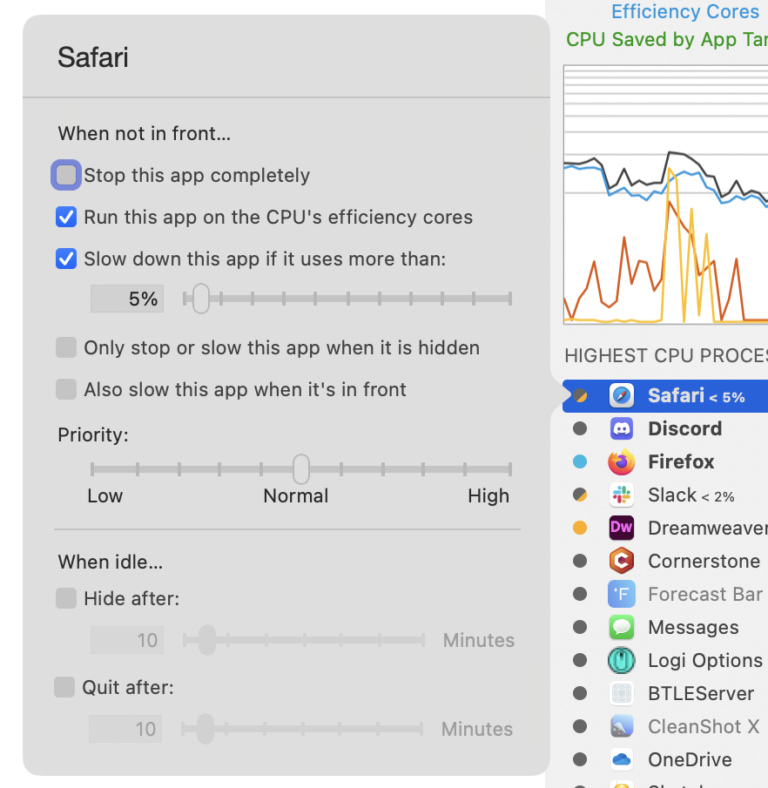 Version 2.7.4 of App Tamer understands Ventura's new security restrictions for Login Items and will ask you to approve its helper application when necessary. This release also fixes a bug in App Tamer's window handling, and corrects a problem with a checkbox not being enabled in the settings for slowing down an app.
Because someone's going to ask, the now-correctly-enabled checkbox is the "Also slow this app when it's in front" feature. Even if you're familiar with App Tamer, you may not have seen this as it only shows up when you hold down the Option key. As its name implies, this checkbox will slow down an app even when it's frontmost. That's usually not something you want to do, as it can make the app harder to use, but there are situations where it does make sense.
HistoryHound 2.3.3 is also available now, adapting its prompts for Full Disk Access permission so they work smoothly on Ventura. This update also adds some features, including support for the Orion web browser and new filters that you can use to narrow down searches of your browser history.
Oh, and to be consistent with Ventura, any references to "Preferences" in both apps now refer to "Settings" when you're running on Ventura, because that's what they're called in the new, modern Mac world. Full details and download links are available on the App Tamer release page and the HistoryHound release page. The updates are free if you've already got a license for the app in question.