June 18, 2021
App Tamer 2.6.3 reduces its CPU usage and corrects several issues.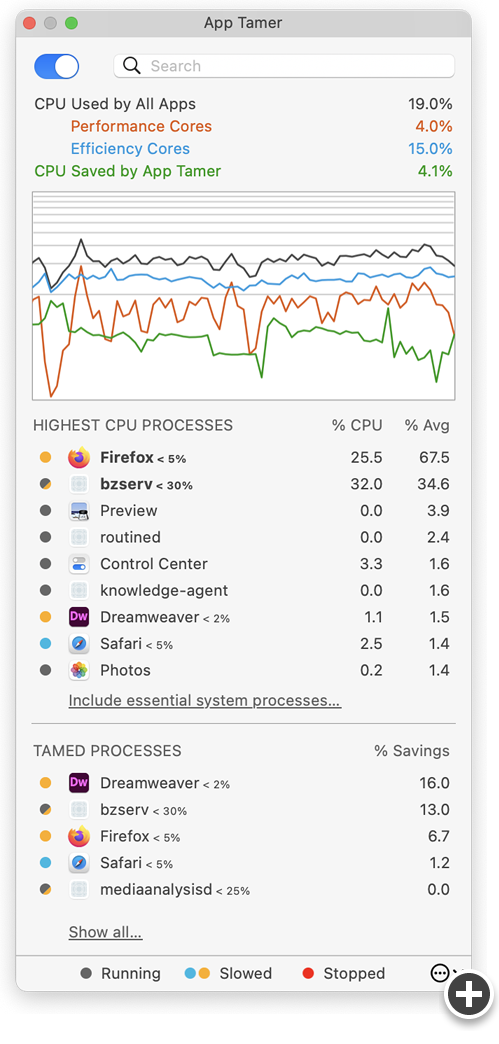 This version is a free update for App Tamer 2 users. Please note that if you still have App Tamer 1.x, this is a $7.95 paid upgrade if you purchased version 1.x before July 1, 2013.
What's new in version 2.6.3
Corrected an issue that could cause App Tamer to use excessive CPU, while also adding optimizations to further reduce CPU usage.
Thread priorities have been set so that some tasks in App Tamer's helper application can be run on the low-power CPU cores on Apple Silicon-powered Macs.
Additional system processes have been marked "essential" and cannot be stopped with App Tamer. They are trustd, secinitd, lsd, keyboardservicesd, corestoraged and apfsd.
The maximum CPU limit for an app is now determined by the number of CPU cores in your Mac, not fixed at 800%.
Fixed a problem that could leave applications running at a slower speed after quitting App Tamer.
Corrected an issue that could prevent App Tamer from slowing down Amazon Photos.
Added a warning about slowing down coreaudiod.
More Information
Download Links