July 14, 2020
App Tamer 2.5.2 adds Big Sur compatibility, Do Not Disturb, information about background processes and more.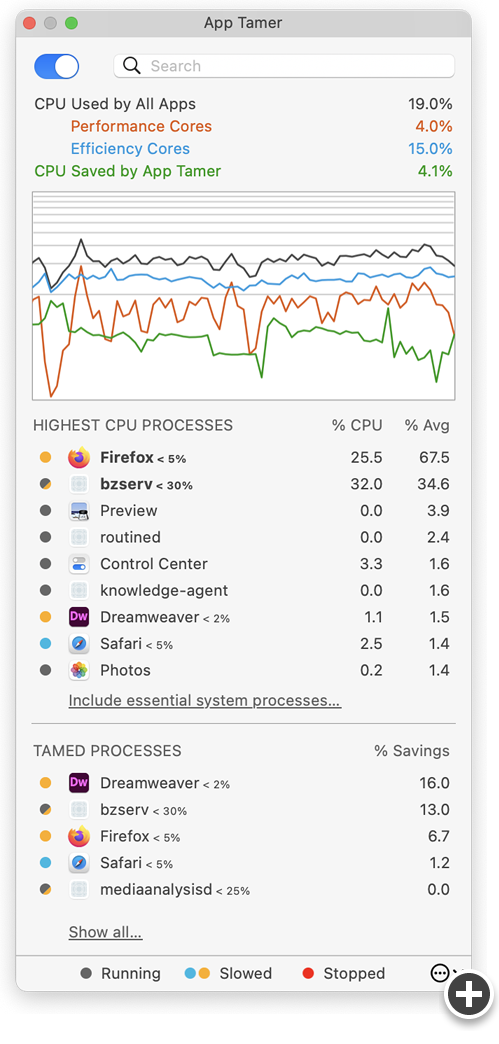 This version is a free update for App Tamer 2 users. Please note that if you still have App Tamer 1.x, this is a $7.95 paid upgrade if you purchased version 1.x before July 1, 2013.
What's new in version 2.5.2
Compatible with the beta release of macOS 11.0 Big Sur.
High-CPU-usage warnings will not be displayed when Do Not Disturb is turned on in Notification Center.
When you click on a system process, the settings popup will show a small "Info" icon if the system provides a description of what that process does. Click on the Info icon to get more insight into what processes like iconservicesagent, WindowServer, launchservicesd, etc do on your system.
App Tamer will no longer allow you to stop BetterTouchTool, and displays a warning if you try to it slow down because that's a bad idea.
App Tamer's process list now just toggles between showing "highest CPU processes" and "all running processes", rather than providing three different views. The button that switches between these modes is now titled "Include / exclude essential system processes" to make the contents of the lists clearer.
Fixed a bug that could cause the main window to display incorrectly when set to Dark Mode in App Tamer's preferences.
More Information
Download Links