November 2, 2020
App Tamer 2.6 is now a universal app built for Big Sur. It also corrects issues with Spotlight and notifications.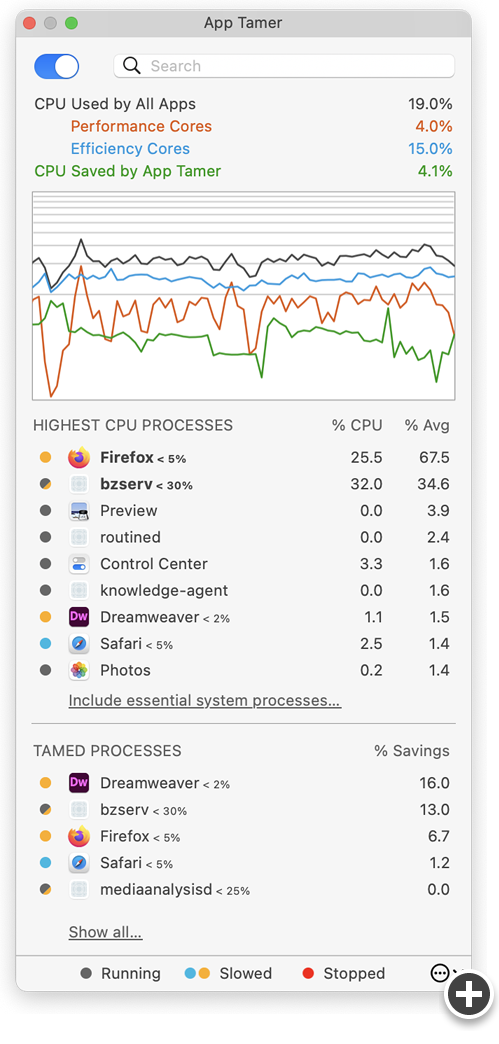 This version is a free update for App Tamer 2 users. Please note that if you still have App Tamer 1.x, this is a $7.95 paid upgrade if you purchased version 1.x before July 1, 2013.
What's new in version 2.6
Compatible with macOS 11.0 Big Sur.
Built as a Universal App to run natively on Apple Silicon.
macOS 10.9 or later is now required for App Tamer to run.
Putting a CPU limit on Spotlight Indexer could sometimes slow Spotlight searches. This has been fixed.
App Tamer's application icon and preference tabs have been updated to match the aesthetics of Big Sur.
When App Tamer is set to hide or quit an application after a period of idle time, notifications are only posted when that is done successfully. This eliminates repeated notifications from App Tamer in cases where an app refuses to hide or quit when it's told to.
Eliminated a memory leak.
More Information
Download Links