I'm excited to get version 4.1 of Default Folder X finished and out into everyone's hands!  Pushing the AppleEvent queries for the Finder into a separate process allowed me to speed DFX up significantly – there's now virtually no delay between an Open or Save As dialog appearing on screen and DFX's controls coming up.  As one of the testers said, "it feels really snappy now!"
This release also provides audio previews in the preview window, support for Open Office 3, fixes for issues with Spaces in Leopard, and a handful of other corrections and improvements.  It's free for all of you folks who already have a license for version 4, so grab your copy now.
If you don't already own a copy of Default Folder X, download it and give it a try!  It'll run for 30 days with no restrictions, giving you plenty of time to get hooked 🙂  You can also find more information on the Default Folder X pages.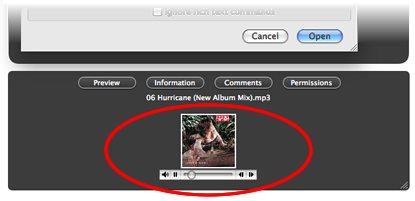 Audio controller in the Default Folder X preview window