Default Folder X 6.0: A tour of what's new
Version 6 of Default Folder X, our app for quickly accessing folders and files in Open and Save dialogs and the Finder, is getting a bunch of exciting new features! It's still in development, so details may change, but here's an overview of the major additions.
Quick Search
Keyboard-based access to Recent and Favorite Items, including recently-launched applications and recently-used Finder windows. Personally, I find this a HUGE productivity booster, as it works system-wide, including within file dialogs. When you press Command+Shift+Space, a window pops up and allows you to select items by typing a few letters:
Hitting the Return key or clicking an item will open the selected result. If a file dialog is open, the item will open in the file dialog. If not, it will be opened in the Finder. Control+click on any result to get a contextual menu for more operations on that item. If it's a folder, the menu will contain a "Contents" submenu that lets you navigate through the folder and its subfolders using Default Folder X's hierarchical menus.
Using the up and down arrow keys or hitting Command+number key selects a result in the list. Command+1 selects the first, Command+2 the second, etc.
Searching Folders: When a folder is selected in the results, hitting the right arrow key starts a search within that folder. The left arrow key goes back to where you came from, either the parent folder or the overall search results.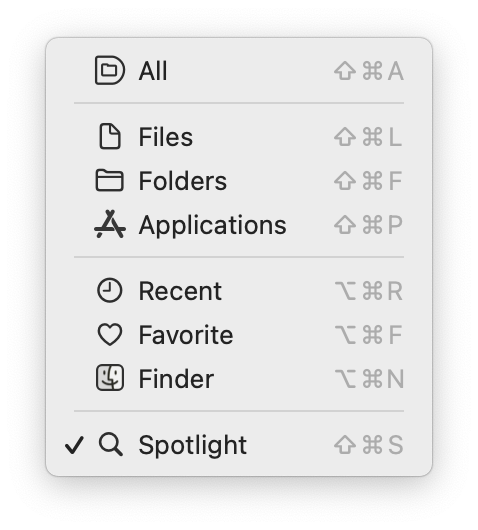 Narrowing Your Search: Clicking on the button at the top left lets you limit the search to particular types of items. Note that there are keyboard shortcuts for all of them so you don't have to take your hands off the keyboard.
If you search specifically for applications, Default Folder X will also search for apps in the standard Applications folders rather than just showing recently used apps – because I personally use Default Folder X as my go-to app launcher 😁
If you choose Spotlight, you'll get results from your system's Spotlight index instead of from Default Folder X. If you're at the top level of the Quick Search window, this searches your entire Mac. If you're searching within a folder, Spotlight will give you all files and folders whose names match within that folder and all of its subfolders.
The default keyboard shortcut for the Quick Search window is Command+Shift+Space. If you'd like to use a different shortcut, you can change it in Default Folder X > Settings > General.
Expanded Filename Field
In Save As dialogs, the box where you type the filename is way too small. How 'bout we fix that?
This is automatically available in all applications.
Drag and Drop
You can now drag and drop files and folders onto Default Folder X's icon in your menu bar. When you do, it will pop up its menu so you can select a destination for them. As with the Finder, dragging an item to a different folder on the same volume will move it, while dragging to a different volume will copy it.
Post-Save Actions
Automatically perform actions on a file after you save it. This can be as simple as immediately opening the saved file, or as complex as using AppleScript, Automator or Shortcuts to process the saved file in some customized way.
These options appear in a new "Actions" tab below every Save dialog:
To add more scripts or workflows, use the last item in that action's menu to open the appropriate folder, then copy your script or workflow into it. For shortcuts, Default Folder X automatically shows all shortcuts you've saved in the Shortcuts app.
Customizable Menu
Default Folder X's menu in the menu bar can be reorganized. You can add and remove different features and submenus and reorder them by dragging them around in the new menu editor. Just click on the "Customize" button in the General tab of your Default Folder X settings.
Sync Settings via iCloud
You can now synchronize your Default Folder X preferences between multiple Macs. Note that both Macs need to be logged into iCloud using the same Apple ID, and must have the same folder structure so that recent and favorite folders on one machine are also present on the other. If they're not, the missing items will be grayed out in Default Folder X's menus.
To turn on synchronization, just enable the checkbox in Default Folder X > Settings > Options. The setting must be turned on on all Macs that you want to synchronize.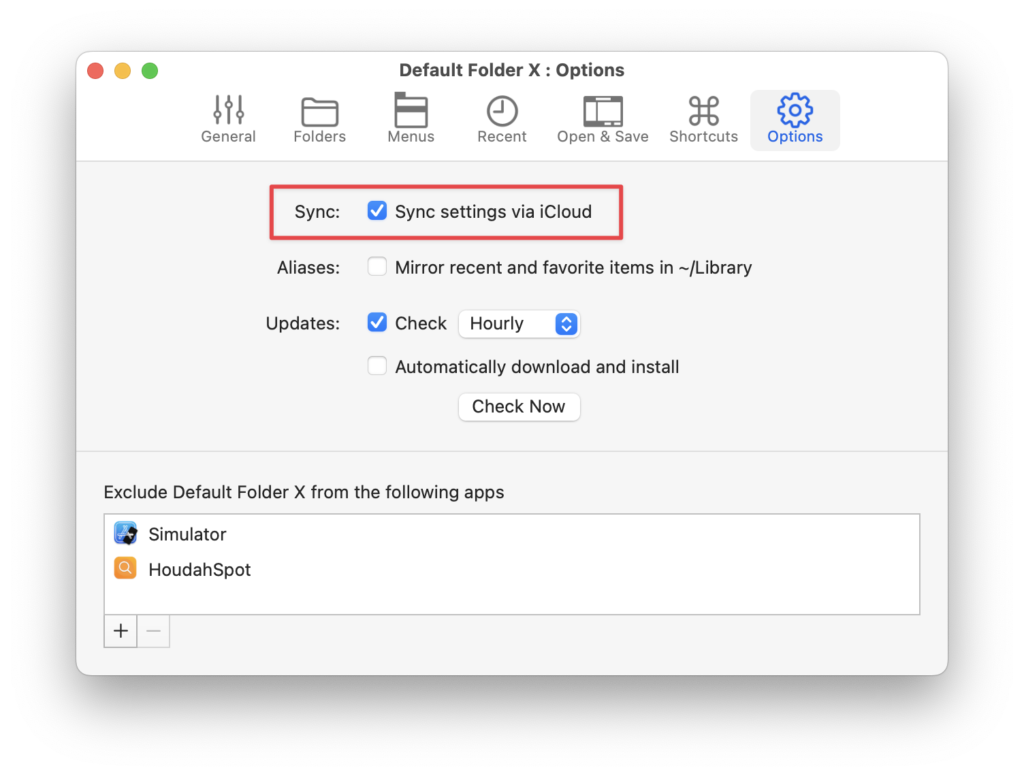 Improved Finder Drawer and Drag Zone
The drawer in the Finder and Drag Zone on the left side of file dialogs have been rewritten. They now support proper drag and drop, including dragging to reorganize items, multi-selecting items, etc.
Enhancements All Around
Many existing features throughout Default Folder X have been improved:
Settings have been updated and reorganized so they're easier to navigate and understand.
Pressing the Option key toggles Default Folder X's menu sorting between sort-by-name and sort-by-date.
The path to a selected item is shown in the Info tab below Open dialogs. Click on the path to copy it.
Finder label colors are now shown in the menus.
Recently used Applications are now tracked.
And much more!
Try It Yourself!
These descriptions give you the outline, but it's always better to try features out and see how they feel when you actually use them. You can download the latest development build and try it for yourself. If you have any suggestions or encounter a bug, please let us know at DefaultFolderX@stclairsoft.com.