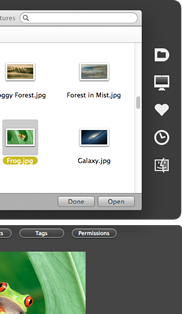 I'm happy to announce that Default Folder X version 4.6.14 is available today – it offers a number of bug fixes and improvements.
Most importantly, it fixes crashes that occurred for some users of ArchiCAD, Mathematica and Cubase 8 (as well as other audio apps that use VST plugins). The problem isn't widespread and I was never able to determine exactly what circumstances trigger it, but found a way to work around it thanks to very dedicated Default Folder X users Frank Heller and Dave Smith. Thanks guys!
The other fix I'm personally happy about is squashing a bug that caused the Rebound feature to fail to select a file every now and then. It'd work fine almost all the time, but the inconsistency was maddening when it failed.
Other improvements are UI tweaks, including the option to resize file and folder icons as you resize a file dialog, a better error message when you've got Little Snitch blocking Default Folder X from checking your registration code, a fix for a very rare crash (thanks Sergey Kritskiy), and more reliable tagging in the face of other apps that try to delete tags after Default Folder X adds them.
There's a full list of changes on the Default Folder X Release Page, along with links to download the new version in English, German, French, Danish and Japanese.