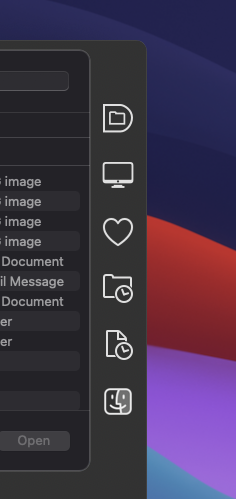 A new public beta version of Default Folder X is available, updating support for Big Sur so DFX works with the macOS 11.0.1 beta that Apple released today.
Version 5.5b5 also refines the toolbar icons that Default Folder X displays next to all of your Open and Save dialogs (screenshot over there ➜) and polishes up its preferences window in preparation for a final release (this image ⬇︎).
I've also addressed a few issues that people have reported, including getting the front-to-back order of Finder windows correct when you're running alternate Finder apps like Path Finder or ForkLift. And the menu and drawer buttons that Default Folder X puts in your Finder toolbars will no longer keep jumping back to their default positions after you've carefully reordered them exactly the way you like.
Things are looking very good for a final release soon, so if you've been a slacker about reporting a bug in a beta version of Default Folder X, hurry up and let me know about it! You can reach me on Twitter @stclairsoft or via email at DefaultFolderX@stclairsoft.com.
You can download Default Folder X 5.5b5 from the Beta Testing Page, where you'll also find a list of all the changes made since version 5.4.6. Note that you don't need Big Sur to run the beta – it supports macOS 10.11 or higher, and provides fixes and enhancements there too. You just won't get the nifty outline icons that Big Sur folks see – what a loss!