Default Folder X can automatically add buttons to the toolbar in all Finder windows so that you can quickly get to its menus or drawer. I've had a number of inquiries from folks that use Path Finder as a replacement for the Finder, and they want those same buttons in their Path Finder toolbars.
Unfortunately, Default Folder X can't automate this, so you'll need to add the buttons manually. Here's how to do it in Path Finder 9:
Locate the Default Folder X application in your Applications folder and Control-click on it. Choose "Show Package Contents" from the menu.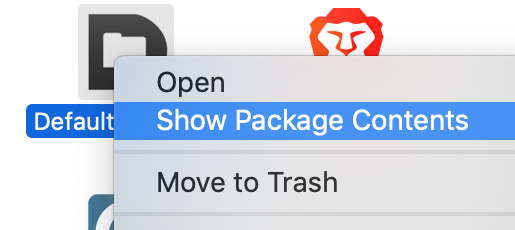 When the window shows the contents of the Default Folder X application, double-click on the Contents folder, and then within that double-click on the Resources folder.
Control-click on Path Finder's toolbar and choose "Add Custom Items…"
Use Default Folder X's Finder-click feature to go to the Resources folder you just opened in the second step.
Choose the "DFX" application to add to Path Finder's toolbar.
Repeat the "Add Custom Items…" command and add the "DFX Drawer" application as well.