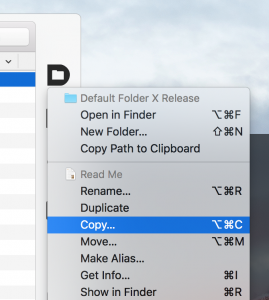 Default Folder 5.1 is now available, and includes a long list of changes. Key among them are new commands that let you copy, move, and make aliases to files and folders right in your file dialogs. Want to save a copy of that file to your Desktop folder before you make changes to it? Just use the Copy command in Default Folder X's toolbar and choose the Desktop as its destination.
Default Folder X will now also mirror all of your favorite folders, recent folders and recent files using aliases in your Library folder. If you use another file management utility like Path Finder, Alfred, LaunchBar, etc for quick access to files and folders, you can connect it with your Default Folder X data by pointing it to these folders:
HOME/Library/Favorites/
HOME/Library/Recent Folders/
HOME/Library/Recent Files/
There are other convenient additions as well, like the ability to change the creation and modification dates of files and folders, and Command-selecting an item from a Default Folder X menu to reveal it in the Finder.
And as usual, there are also compatibility improvements and bug fixes – quite a lot of them this time. While Default Folder X has been performing very well for nearly everyone, the automated crash logs have uncovered a handful of infrequent but persistent problems. I've done a lot of stress-testing and debugging to ferret them out, making this release more reliable – and thereby less annoying for both you and me 🙂
For a complete list of changes, bug fixes and download links, check out the Default Folder X Release page!