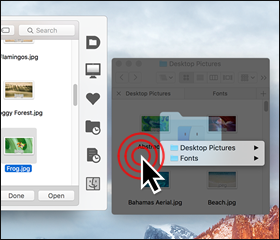 Version 5.0.6 of Default Folder X is officially out! It's the product of a lot of bug-chasing and wrangling of little details, especially where Sierra is concerned. I know there are still features that some of you are waiting for – I still have a long To-Do list – I haven't forgotten.
In addition to supporting macOS 10.12, this update delivers a few often-requested features, including the ability to keep your Favorites sorted by name and better interoperability with LaunchBar. It also addresses some occasional glitches and compatibility issues, and starts up more quickly than previous versions.
If you're running Sierra, El Capitan or Yosemite, you should update to this version, as most of the improvements apply to all versions of macOS, not just Sierra.
There's a full change list and download links on the Default Folder X What's New page. Have at it!
And stay tuned for updates to App Tamer and Jettison as well – they'll be here shortly.