What's new in version 2.0.5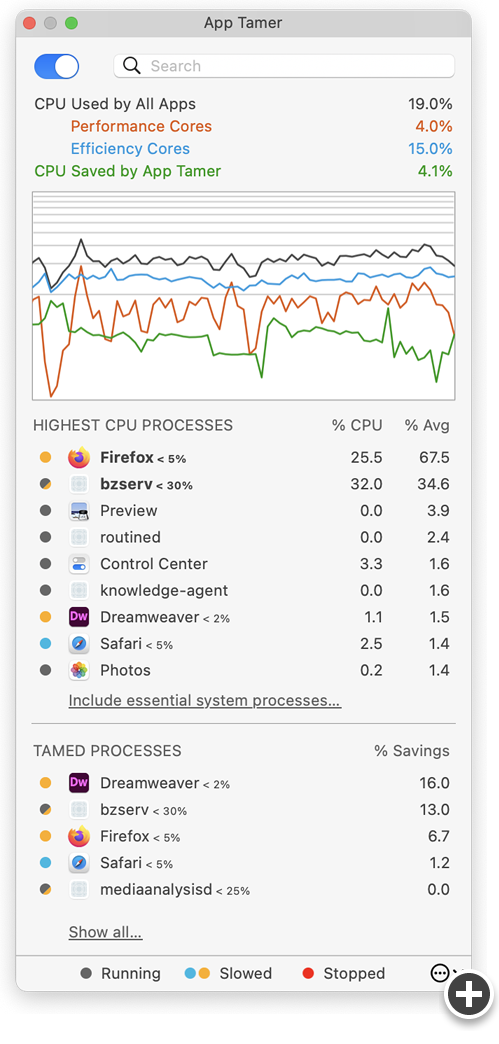 If your Mac has more than four processor cores, you'll now get a dialog offering to change the cpu history graph to a logarithmic scale. This mode shows much more detail when cpu usage is a lower percentage of total capacity (which is very common because you're rarely using all cpu cores on 8 and 16 core Macs).
Fixed problems with 64-bit Safari plugins not being stopped and started correctly.
App Tamer now shows more helpful error messages when it can't connect to the internet to validate your license number.
When installing its helper application, App Tamer will try to fix permission errors for you when it encounters them.
When App Tamer reenables itself after being turned off for a period of time, it now displays a notification in Notification Center on Mac OS 10.8+ .
Corrected a bug that would mistakenly hide both stopped and slowed apps when the "Hide applications when they are stopped" setting was turned on in your preferences. Now App Tamer doesn't hide apps that have just been slowed down.
Improved the appearance of the CPU history graph.
Why upgrade to App Tamer 2 if you're still using version 1.x?
AutoLimit
As an alternative to completely stopping an application when it's in the background, you can now put a limit on the amount of CPU an app can use.
You can limit Mail, for example, to use no more than 10% cpu. It will still download your new messages, but won't tax your computer while you're doing something else.
This lets you manage many more applications than you could with App Tamer 1.x, because it works with virtually any app, even those that need to run in the background.
New User Interface
You can now get everything straight from the menubar. Click on App Tamer's icon to see CPU usage, what App Tamer is doing and to change settings for your applications.
Hover over an app to see it on the graph. Click on it to change its settings.
The colored squares show you what App Tamer is doing.
Use the utility menu (the gear icon in the lower right corner) to change preferences, get help, buy App Tamer or quit it.
Improvements Throughout
The engine that manages your applications has been streamlined, enhanced and refined since version 1.x to make saving CPU and battery even faster and easier.
What about App Nap?
Mavericks and Yosemite provide some power-saving features on their own, but App Tamer goes well beyond these.