March 1, 2017
App Tamer 2.3.1 corrects several issues and improves Spotify support.
This version is a free update for App Tamer 2 users. Please note that if you still have App Tamer 1.x, this is a $7.95 paid upgrade if you purchased version 1.x before July 1, 2013.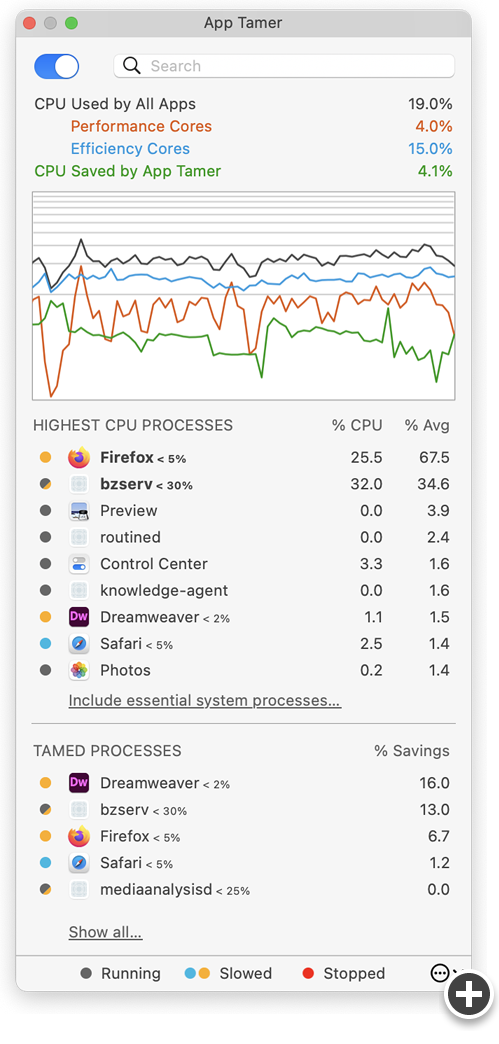 What's new in App Tamer 2.3.1
If Spotify is playing music in the background, App Tamer will no longer stop or slow it down.
Corrected a logic error that prevented App Tamer from correctly slowing apps that have lots of helper processes (such as Spotlight and Google Chrome).
When Chrome and Spotlight are slowed by App Tamer, their CPU usage is now more steady.
Fixed several small memory leaks.
Recent changes in version 2.3
New "Detection" feature that alerts you when an application or background process starts consuming excessive CPU time.
Updated user interface that's consistent with the look of El Capitan and Sierra.
App Tamer will no longer stop iTunes when iTunes is ripping a CD.
When it launches, App Tamer now automatically quits any other copies that are running.
All Spotlight indexing processes (and their aggregate CPU usage) are now displayed as a single task.
Fixed a bug where App Tamer considered the frontmost app "in the background" when you clicked on App Tamer's icon in the menubar.
Eliminated a crash that could occur when macOS supplies incomplete process information to App Tamer.
App Tamer will never stop VoiceOver.
Fixed VoiceOver support in the Quick Start windows.
App Tamer now requires macOS 10.8 or higher.
Download Links


App Tamer 2.3.1
(a server will be selected for you automatically)
If you have trouble contacting our servers, please let us know at support@stclairsoft.com.